10 Functions, 1 Pan
Let's break down the magical multifunctionality of the reach-for-it-everytime Always Pan 2.0.
You can flip, nudge, and scooch your food around all day with the handy spatula.
Saute
With a sturdy aluminum body, the pan gets nice, even heat for a perfect sear.
Sear
Oven safe up to 230°C, the pan can be used as a baking dish, too!
Bake
Never dry your food out again thanks to the self-basting lid design.
Braise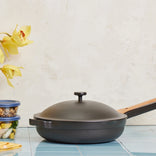 The large Always Pan's 3.8 L capacity means it doubles as storage when not at work.
Store
Thanks to the pan's versatile shape, you can pan fry or deep fry with ease.
Fry
Seafood boil on the menu? With extra deep sides, the Always Pan can handle it, no problem!
Boil
The iconic domed lid provides ample space for roasting a whole cabbage (or chicken!).
Roast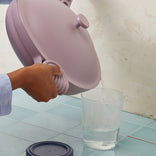 The pan's generous pour spouts make straining a cinch.
Strain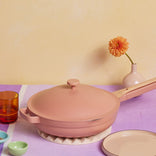 Finally, a pan so pretty you won't mind setting it down on your dinner table.
Serve