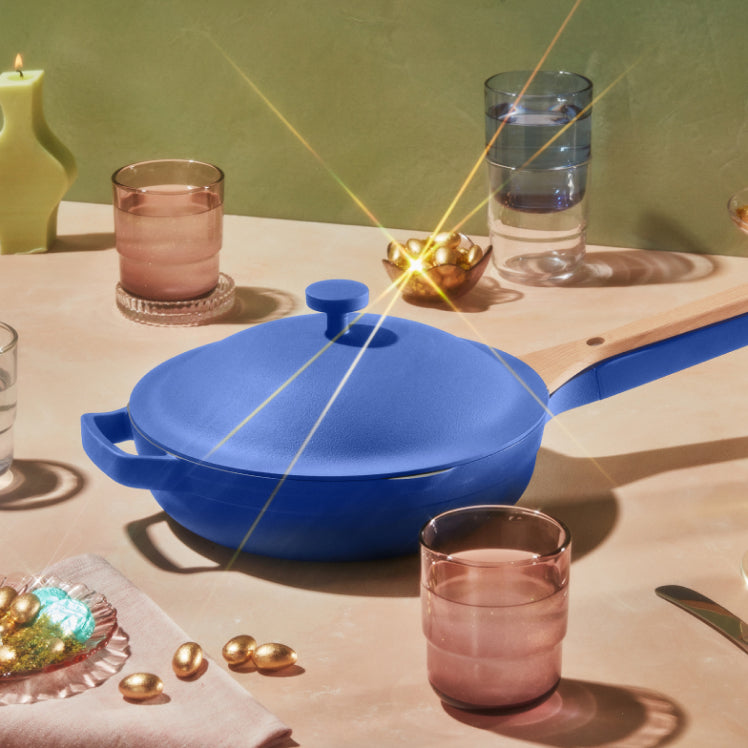 Patented Multifunctional Design
Save money and cabinet space with products designed to do everything and more
Better for You, Better for Earth
Our ceramic coating is made without toxins found in the majority of nonstick cookware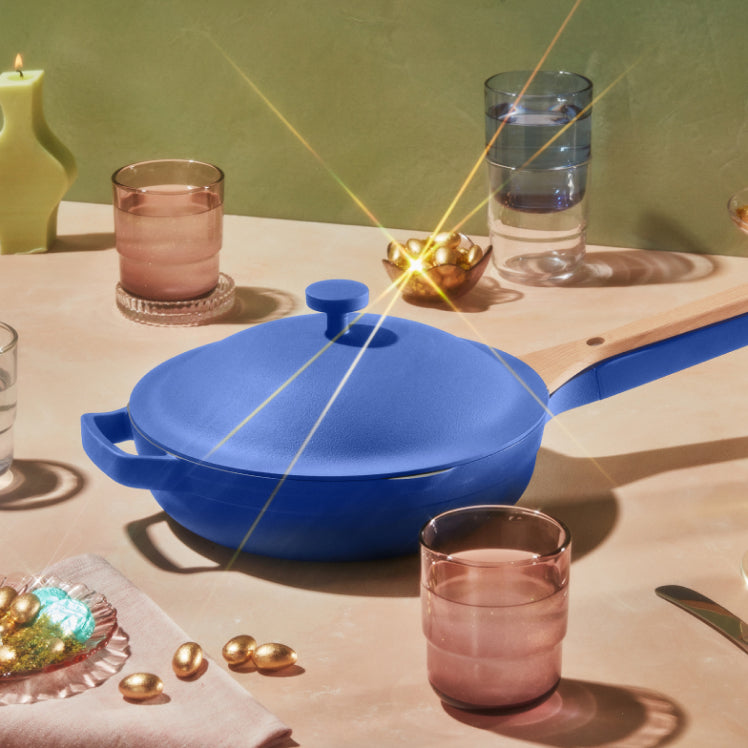 Home Cook Duo
Our two bestsellers, designed to replace a 18-piece cookware set
Current price:
$289
Original price:
$420
* Reviews are an aggregate of bundle components

Why You'll Love It
From baking to sauteing, crisping to boiling, this genius duo does it all. It's a whole new way to cook at home — an entire culinary system in just two pieces. Imagine that.
The pot and pan are made with a sturdy aluminium body for fast, incredibly even heat distribution
Compatible with all cooktops (yes, induction, we're looking at you)
Generous pour spouts on each, because it just makes life easier
A modular lid to let off steam when you want and lock it in when you don't
Our nonstick ceramic coating is made without potentially toxic materials like PFAS (including PTFEs and PFOAs), lead and cadmium
Free Shipping

100 Day Trial

Free Returns
Always Pan 2.0
Modular, steam-release lid
Nesting Beechwood Spatula
Steamer basket and colander
Perfect Pot
Self-basting, steam-release lid with a built-in strainer
Beechwood Spoon designed to notch two ways
Always Pan 2.0
50.6 cm length, 26.7 cm diameter, 7 cm depth, 14.7 cm height with lid
2.46 L capacity
Lightweight construction (1.36 kg body)
Compatible with all cooktops, including induction
Aluminum body for fast, even heat
Perfect Pot
26.7 cm. diameter, 14 cm. depth
5.2 L capacity
Lightweight construction (2 kg)
Compatible with all cooktops, including induction
Aluminum body for fast, even heat
Aluminium conducts and holds heat better than traditional stainless steel cookware, so we recommend low to medium heat when cooking
The Always Pan and Perfect Pot are oven safe up to 230°C with or without the lid — no broilers please. Be careful and use oven mitts or Hot Grips when handling
Always use high smoke point oils and avoid aerosol spray oils
Do not use metal utensils
Dishwashers not recommended — hand wash once the pan and pot are fully cooled
Avoid using scours and abrasive cleaning agents
Use low-medium heat to preserve the nonstick coating — never heat an empty pan or pot
Stainless steel long handle and knob designed to stay cool on the stovetop

Use caution! The helper handle gets hot. The long handle and lid knob also get hot with prolonged stovetop use and when in the oven. Make sure to use mitts (or our Hot Grips) when handling hot cookware
Surpassed My Expectations
I was skeptical about this pan and it's pot companion, the reason is because we've bought modern cookware sets and while nice, the other brand was a general disappointment all around. The Always Pan is not only satisfactory, but surpassed all of my expectations and restored my faith in purchasing cookware online.
Quality and Ease of Use
We ordered both the perfect pot and always pan! So far we are impressed with the quality and ease of use. The green adds a pop of colour to the kitchen too.
Better than Expected
It's been a week and these babies are working excellently. Better than expected, we bought the Home Cook Duo and the small pan and boy do they work!
Patented Multifunctional Design
Save money and cabinet space with products designed to do everything and more
Better for You, Better for Earth
Our ceramic coating is made without toxins found in the majority of nonstick cookware
What's Included
A 25.5 cm. pan that braises, sears, steams, strains, sautes, fries, boils, bakes, serves, stores…does it all!

Our nonstick ceramic coating is made without potentially toxic materials like PFAS (including PTFEs and PFOAs), lead and cadmium

Featuring Thermakind™ — our exclusive, most advanced, 50% longer lasting ceramic nonstick coating
50.6 cm length, 26.7 cm diameter, 7 cm depth, 14.7 cm height with lid

2.46 L capacity

Lightweight construction (1.36 kg body)

Compatible with all cooktops, including induction

Aluminum body for fast, even heat

Stainless steel long handle and knob designed to stay cool on the stovetop
Patented Multifunctional Design

Better for You, Better for Earth
A 5.2 L pot that can boil, bake, fry, roast, braise, strain, serve, and store

Generously sized for all kinds of recipes; whether you're roasting a whole chicken or doubling a soup, you've got the room

At 1/3 the weight of traditional dutch ovens, the Perfect Pot is built for easy maneuvering from stovetop to oven to table

Our nonstick ceramic coating is made without potentially toxic materials like PFAS (including PTFEs and PFOAs), lead and cadmium
26.7 cm diameter, 14 cm depth

5.2 L capacity

Lightweight construction (2 kg)

Compatible with all cooktops, including induction

Aluminium interior for fast, even heat
Better for You, Better for Earth

Patented 8-in-1 Design
Pairs Well With
Recommendations Just for Your Place